You've scored a date with the lovely lady you've been eyeing for weeks. Or, you're eyeing a lady you've just met and now want to draw her attention to you.
First impressions are everything. It takes just 7 seconds for someone to form a solid first impression of you. So…the pressure is on to make a good impression on the woman you're eyeing. What should you wear?
You want to dress in a way that makes you feel confident and comfortable, while also impressing your date or crush. So what are the top 3 looks women love? We've got you covered.
Check out our simple style guide for men, and choose an outfit that will make you look and feel your best.
LOOK #1
THE CLASSIC GENTLEMAN
You're a classic gentleman. You like to enjoy the finer things in life and aim for the best. You're always well-dressed, and you know how to make a woman feel special.
This look is all about sophistication and a timeless style. When you walk into a room, you want people to take notice. You're the man with presence.
What You'll Need
A fitted suit in a dark colour, like black, navy blue, dark grey or dark brown
A dress shirt in white, cream or light blue
Dress shoes
Women Love This Style Because…
You look polished and put-together
You have a sense of style that's both classic and timeless
You're the type of man who knows how to take care of himself…and take care of the woman he loves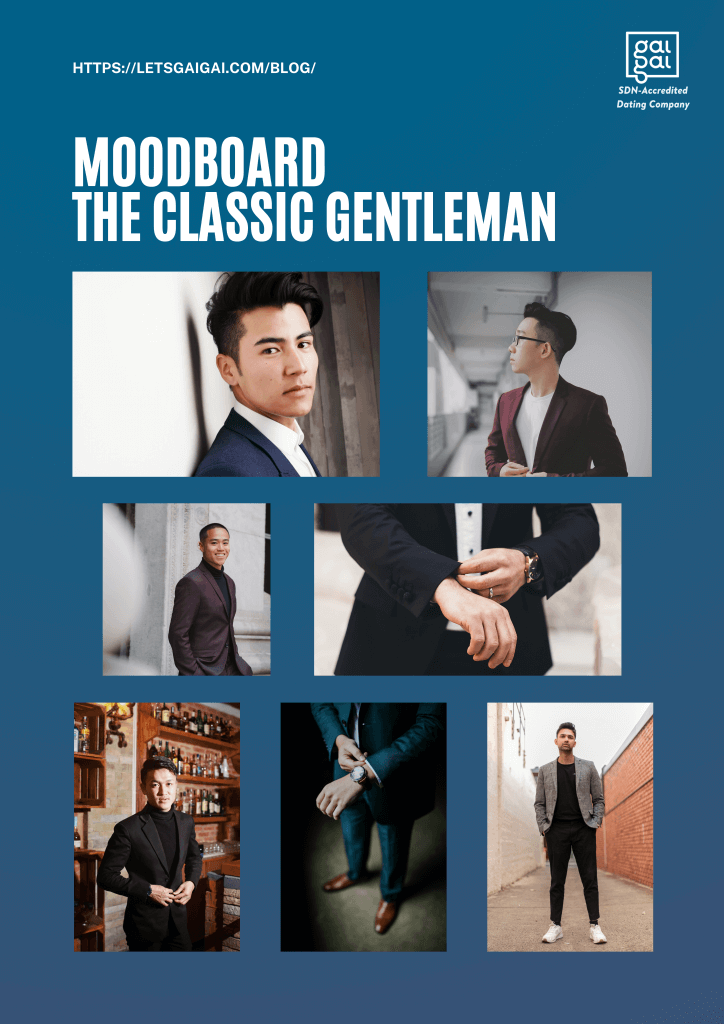 Who should wear this style:
Men who want to put his best foot forward
Those with a high achiever attitude
Men who prefer traditional courting and romance
Men who can present themselves in a confident way, speak eloquently, with a charming or commanding presence.
Who should NOT wear this style:
Men who want to appear casual or trendy
Those who are attracted to the simpler things in life
Men with a more relaxed style and looking for a partner who matches that laid back vibe
Men who tend to feel nervous around ladies he likes
Look #2: The Modern Man
Let's take a look at the modern man. This is a style that's all about looking put together without trying too hard.
What You'll Need
Well-fitting shirt
Jeans or trousers
(Optional) Plaid or Chequered shirt jacket – nothing too flashy
Women Love This Style Because…
It's very clean and timeless.
Shows that you're realistically put together and have your life together.
Suggests that you're a balanced guy who puts in some effort in looking presentable, yet may be spending his time on other projects and hobbies.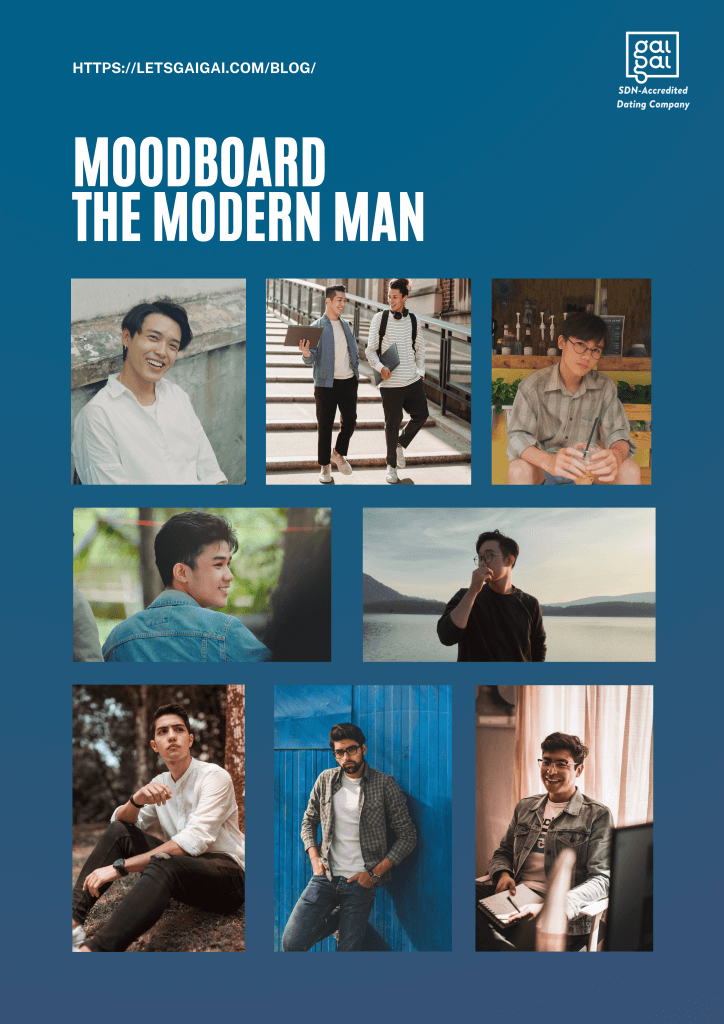 Who should wear this style:
Men who want to look stylish without too much effort
Those who haven't figured out their specific style
Men who prefer simplicity, but still have to make a good impression
Men on a budget, as such clothing can be found everywhere at varying prices
Who should NOT wear this style:
Men who have decided on a specific style should follow their own unique style instead
Men with a very interesting personality or background should dress less generic and incorporate elements (accessories) of who they are

Ie men working in arts may choose to dress with prints or in a more flamboyant way

Men who prefer to look professional and polished
Look #3: The Creative Type
The creative type look is all about being yourself and expressing your personality. The possibilities are endless when it comes to styling for this type.
What You'll Need
A few items (2 or more) with an element of flashiness.
An item with an element of flashiness

Shirt with prints
Or Shirt in a bright or pastel colour
Or Pants in a bright or pastel colour
Accessories

Piercings
Rings
Necklace(s)
Wristbands or Watches

A trendy haircut

Shaved line
Eyebrow cut
Spikes + Slash

Trendy shoes to complete the look
Women Love This Style Because…
It's creative and unique.
It shows that you're not afraid to stand out from the crowd.
It suggests that you have developed your own identity and you are assured in yourself as an individual. In return, you would embrace and respect your woman's individuality and sense of self.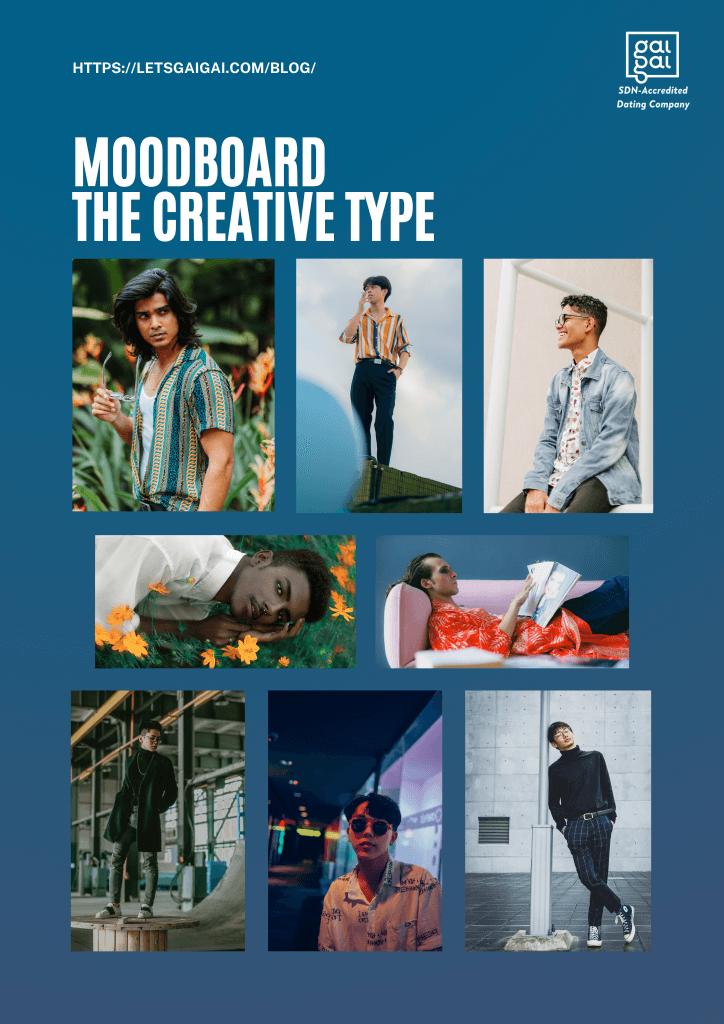 Who should wear this style:
Men who know they have a unique style, personality or skill
Those who are in the art, music, entertainment, or other alternative industries
Men who take pride in their individuality and want to stand out from the crowd
While this may sound counterintuitive, men who are shy, soft-spoken and tend to make themselves small may want to experiment with this style, as this may help such men come out of their shells.
Who should NOT wear this style:
Men who are more traditional. A cleaner look would suit them better.
Those who do not want to spend time on developing their style as specific styles tend to require some maintenance
Men whose values lean towards conformity rather than individualism
Men who find it cumbersome to wear only 1-2 accessories.
Conclusion
When planning your first date outfit, it's important to dress in a way that makes you feel confident and comfortable. These three looks are all stylish and sure to make an impression on your date or crush.
So, don't wait any longer – start planning your outfit today and wow her with your style and presentation.
-End of Article-
Psst! Don't have a Date yet?
Perhaps you are simply too busy to meet new people. Or there just aren't enough opportunities in your life to meet a potential lady whom you may click well with. At GaiGai, we match dates up according to compatibility and individual members' criteria, which will aid in creating that spark you're looking for.
>>Click here to sign up for a FREE profiling session to find out if there are profiles in our database that are compatible with yours.
Want to join a GaiGai Event?
We typically host 2 events per month.